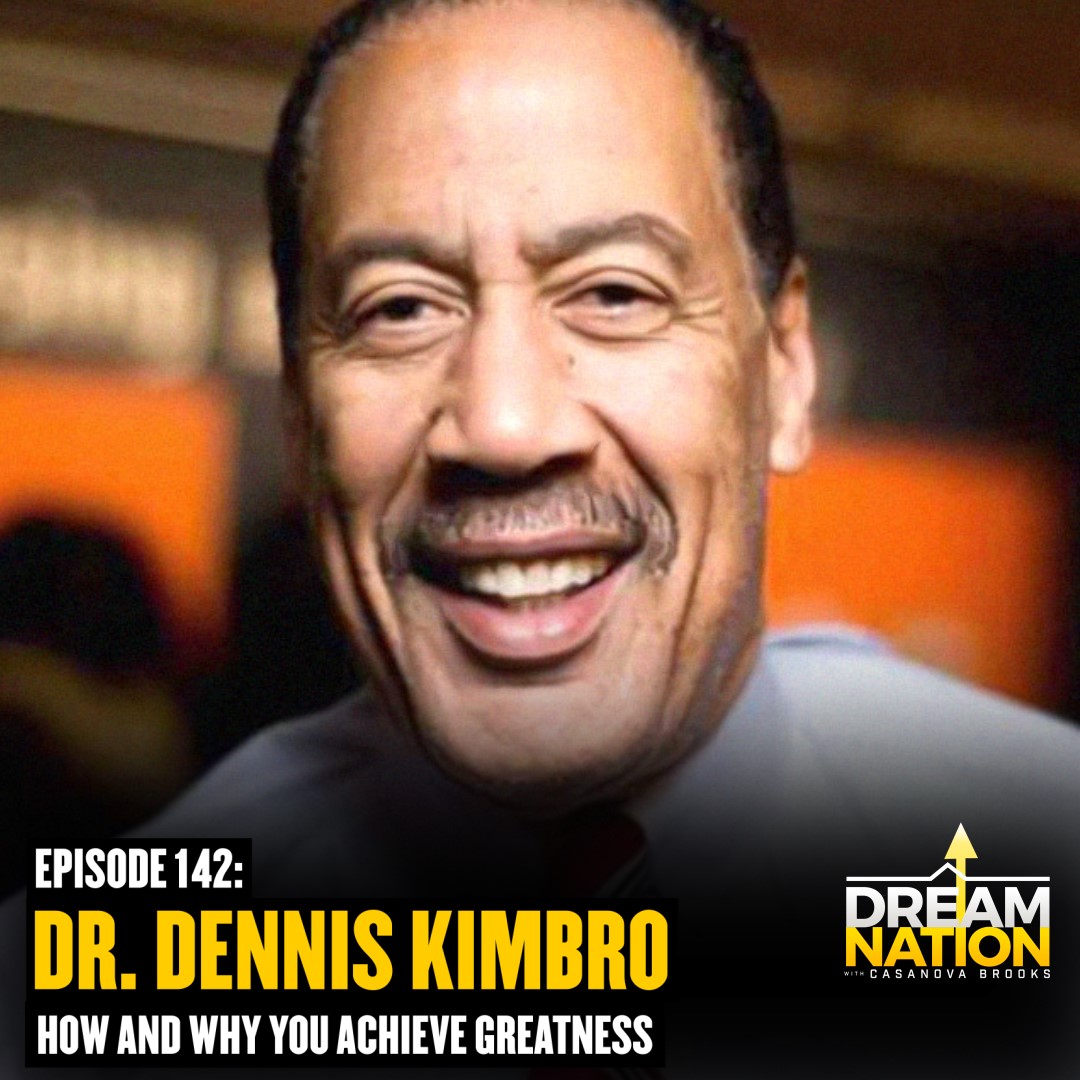 Have you read Think and Grow Rich? What Makes the Great, Great? The Wealth Choice? If you have, there is no doubt you are familiar with our guest for today. Just a head up: If you are looking for so much wisdom, tactical advice, boosting your self-esteem, reaching your full potential, and attaining life fulfillment, you've finally reached the perfect podcast. That's because Dr. Dennis Kimbro poured so much in this conversation, you'll feel you've graduated a whole new master's degree!
Dr. Kimbro is universally characterized as one of the most insightful and scholarly writers in the field today. If you are looking for a mentor for human potential, entrepreneurship, and management, Dr. Kimbro is the man to go to. Be prepared to be encouraged to accomplish big things after you listen to this episode in full! Dr. Kimbro did not only shared advice to achieve your full potential, but he also showed us that in that process, you'll face setbacks and you may need to pivot. He shared how he and his wife almost lost their house while he was writing the books he became famous for. He shared how he needed to pivot, setting aside a book he's working for at least two years to work on a new project that was given to him. How we sometimes need to take a leap of faith and believe in ourselves. Why you and your partner should not quit together, and why it pays to live fearlessly.
This episode is also full of spiritual nuggets, and just the exact words that you may just need to hear for that little nudge to greatness. You'll feel his love for the black community and how he tirelessly would love to lecture and give insights to the community. Not only is he successful in his career life, but you'll also all get inspired by how great of a family man he is and how proud he is of show his children came out to be. As his father said: "The greatest compliment that a man could ever receive in life is for someone to say to him that his children are well mannered." So, let's dive into a chat that I'm sure will have a standing impact in each of your lives, our dream builders!
Here's What You Missed
How to live life with fulfillment
Is your why big enough?
On black wealth: history and current issues
How successful people become successful
What do the black community needs?
What is level five leadership?
Start now, how??
Knowledge Nuggets
[4:48] Your life is all that you can imagine all that you can see. We're not in this world to set it right, we're in this world to see it right.
[6:05] The Bible says work out your own salvation. It means you got all the power. I gave you all the tools you go to solve the problem. This is your time to go up the rooftop and shout to the world I'm here, this is what I've been sent to do.
[8:03] Gladwell says any problem can be solved if only enough people care. The only reason why you have a problem is that you think you've got a problem.
[12:07] We're all going to leave this world, not by dying, but by knowing the truth. What is the truth? As far as you can see.
[13:20] Whatever you put in the place every single day is going to, reinforce that one choice. It is a choice, and guess you can do that. And how can you do that? If your why is big enough.
[14:08] Peace is the absence of all negative emotions
[16:34[ Don't you ever forget somebody survived for you. If you were African American right now, all you got to do is go back and look at your past generation and somebody survived for you.
[18:09] The middle class keeps score by degrees and titles. The poor keep score by cars and clothes, but the wealthy, they keep score by the bank account. So you get judged 50 million different ways, man. But the bottom line is your character and your integrity. It's a sacred trust and you defend it at all costs.
[20:45] Progress is the key. Are you making progress? Are you making progress in every area of your life?
[24:16] On successful people: They got a dream and there are hungry and nothing is going to stop them. Once they hit their goals and objectives and they've got the same hunger they dominate and see conviction once you're convicted that leads to the passionate, committed mind. That mind can never be defeated.
[28:32] On what the Black community needs: we need financial literacy. There are two sides. What you call recognition and being exposed.
[36:00] It's your belief in your capabilities that make the difference. That's all the difference in the world. Everybody is capable, but those that we call successful, those things we know are enamored with those that we want to emulate.
On pivoting: It is maintaining your strategy. But altering your tactics, maintain the strategy. And change the tactics, regardless of what you've got invested at that particular time.
[1:04:53] We are the only racial-ethnic group that doesn't profile as black creatives, wealth creators.
[1:06:54] Everybody should write down what are the five great events of your life?
[1:09:43] Father says the greatest compliment that a man could ever receive in life is for someone to say to him that his children are well-behaved, well mannered.
[1:13;43] The longer that you can project yourself into future circumstances, the greater, the chance for success. It's the short-range goals that we dismiss
[1:17:22] What is level five leadership? People follow you not because you want them to follow you. They followed you because they want to follow you. And the only way they follow you, what do you stand for?
 [1:19:00] start where you are with what you have, knowing that what you have is plenty enough. I don't care where it is. Start, where you want with what you have. if you're weak, I can show you how to be strong. If you're slow, I can show you how to become fast. But I don't have an anecdote for low self-esteem. That is something that you have got to do on your own and the quickest way for you to raise your self-image, just to praise your God. Because when you're praising you, God, you basically praising yourself.
Important Reads and Links
Books
The Country of the Blind Short story by H. G. Wells
The Negro Book by W. E. B. Du Bois
Think and Grow Rich: A Black Choice Book by Dennis Kimbro and Napoleon Hill
Dr. Dennis Kimbro Website:                                              http://www.denniskimbro.com/      
Dr. Dennis Kimbro Instagram:                                           https://www.instagram.com/drdenniskimbro/             
Dr. Dennis Kimbro Twitter:                                                https://twitter.com/drdenniskimbro              
Dr. Dennis Kimbro Facebook:                                           https://www.facebook.com/dennis.kimbro/ 
Dr. Dennis Kimbro LinkedIn:                                             https://www.linkedin.com/in/dennis-kimbro-605a4131            
Love #DreamNation? Check Us Out on Apple Podcasts!
At Dream Nation, we're all about building dreams. We do that through podcasts that motivate, educate, and entertain our listeners with some of the best entrepreneurs from around the world to get you to the best tips to level up your game in business in life.
If you enjoyed this episode and want to keep building your dream,subscribe to the DreamNation podcast using the links below.
Dream Nation on Apple Podcasts
Catch your host on Instagram (@casanova_brooks)
If you are in DreamNation, thank you! Feel free to leave a review or share with a friend.